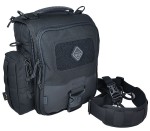 I have had my Kato Mini-Messenger Bag now for over a month, and I think I can now write a review on how I actually like the bag.
The short version is, I love it. It's a great bag. Well made (save one sloppy stitch that I already fixed), comfortable, and it holds a ton. And that, really, is the only problem. I'll explain.
The bag has two main pockets on the outside surface. The front pocket on the flap, and a back padded pocket for an iPad-sized tablet. I store my Nook in the front pocket, and nothing in the back. Open the flap, and you have a pocket on the back of the flap (closed by a small velcro patch), then you have some MOLLE loops, and the map pocket area. In there, there's pocket for a map, then some small pen-sized pockets, and another area closed by velcro that's about the same size as the front pocket. Then the main area for CCW, or a Macbook Air, etc. I don't currently use that space either. But that's the thing, I don't NEED to, yet. The bag has SO much storage and SO many pockets, I keep adding things, and forgetting they're in there until I realize the bag has gotten overly heavy, and remove them to save weight. Is this a problem? No… most people (myself included), want storage space. It's just a bit weird to have so many pockets that you forget what you've put in them.
So right now, I've got a Nook, Prius Fob, Leatherman XTi, CRKT Eat'n Tool, CRKT Van-hoy On Fire, 25′ of Paracord, 100′ of 25lb Mono-filament, Fenix RD20, Maglite XL200, Couple Pens, Lockpick set, 5×7″ Grit-it with an iPhone sync cable, MicroUSB cable, iPhone Charger, Nintendo DSlite USB charge cable, and two small bottles of Excedrin and Naproxen Sodium. The whole bag probably weighs about 7lbs. It's not very heavy at all. At some point I'll get a Macbook Air and add that to the bag, which will obviously add a couple pounds, but still a VERY good EDC bag.
The other minor annoyance is the use of Velcro/Hook-and-loop for closure. I hate the stuff. Noisy, wears out, etc. So, I took a couple pieces of hook field I had, and covered the loop side. So, they don't "close", but to me, that's fine.
All and all, very happy. And extremely pleased with the service provided by the supplier Tactical Distributors. If you're looking for a good EDC bag, and like the vertical style bags rather than a more traditional messenger style, I'd highly recommend it. Heck, judging by their designs, anything from Hazard4/Civilian Labs look great!
[xrr rating=4.75/5]