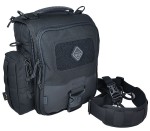 When I first saw this bag on ThinkGeek I was intrigued. It was a vertically oriented messenger style bag that said it could fit both a 11″ Macbook Air, and an iPad. And most importantly, it didn't use hook and loop (Velcro) for closures1.
I contacted ThinkGeek hoping to get one for review, but alas, they couldn't help me out. After looking around online, I found extensive commentary on the bag at EDC Forums and it seemed to get pretty darn good reviews. But in the process, people mentioned several other bags that they used2. This list of bags pushed me into a bit of buyers paralysis. This lasted about 2 months, it seems.
After weeks of going over reviews, watching videos, etc, I kept coming back to the Hazard 4 Kato bag. The orientation of the bag, the size, look, and the lack of velcro just kept calling to me. So then it was a question of ordering, which largely came down 3 options3. Thinkgeek, LA Police Gear, and Tactical Distributors. Thinkgeek charged MSRP, but has free ground shipping. LA Police Gear was $10 less, and also had free ground shipping (and a 10% off coupon), but from reading online, had a bad habit of selling items that were "in stock" according to their site, but were in fact back ordered. Tactical Distributors was the same price as LA Police Gear, but had a %15 off coupon, and while charged for shipping, they often upgraded their ground shipping to next day, for free! So, I hashed this around a bit, and when I finally went to order the bag, it was out of stock!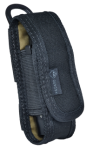 LA Police Gear said 4-6 weeks on their site, with no good way to ask. Calling Tactical Distributors gave me a wonderfully quick answer: that day! So I sat back, and waited until they were posted on the site, and ordered. I added a Hazard 4 Koala to the order as well (which ended up basically free with the 15% off coupon) that I'll use to keep my Leatherman Charge XTi in each reach on my bag.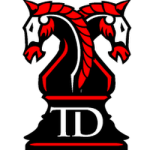 Special Thanks to Tactical Distributors for their excellent customer service, great prices, and very fast shipping. $7 for next day shipping from Virginia is nothing to shake a stick at. While I didn't get the bag discounted for review, I'm more than happy to pay for products to review if they're cheaper than MSRP (which this was). Not only that, but I was able to call them after hours and get a tracking number (since UPS hadn't sent me a Quantum View notice yet), and Rob happily looked up my order, and got me the number! I will definitely be dealing with Tactical Distributors in the future, as I'm guessing the work needed to outfit a bag for EDC is an evolving process. Right now, the Kato with a Koala works, but I may add a second Koala for a flashlight, or any number of other MOLLE pouches that add further customization/organization for my gear.
Actual product review coming after a couple weeks with the bag.
I've said it before, and I'll say it again, I HATE Velcro. It's loud, and it wears out. [↩]
Maxpendition Lanada, Condor EDC, 5.11 PUSH, etc [↩]
4 if you include Amazon, but they wanted $7 more than MSRP [↩]