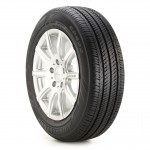 Since purchasing my Prius in December of 2006, I've had 3 sets of tires. The stock Bridgestone Turanza EL400's, the Bridgestone Potenza G019 Grid's, and now the Bridgestone Ecopia EP422's. Yes, it seems I have a thing for Bridgestone, but really, it's just because there's a Bridgestone/Firestone here in town that originally did an online pricematch for the Potenza's, and then when they failed early (cupping), they gave me a large discount on the Ecopia's.
Since I've had the Ecopia's for over 10k miles now, I thought I'd circle back around, and do an analysis of my mileage with each, and see if there is really any solid comparison. Subjectively, before running any numbers, I feel like the Turanza's gave better mileage than the Potenza's, and the Ecopia's have given me better mileage than both.
Without further ado, here's the data.
| | Num Tanks | Total Gals | Total Cost | Avg Calc MPG | Avg MFD MPG |
| --- | --- | --- | --- | --- | --- |
| Turanza | 29 | 227.326 | $680.06 | 45.35 | 45.99 |
| Potenza | 29 | 238.49 | $622.21 | 42.14 | 43.21 |
| Ecopia | 27 | 212.062 | $800.75 | 47.96 | 48.70 |