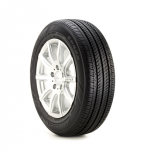 This is going to be a rather long post, so first, some backstory: We picked up our '07 Prius Touring in December of 2006. It came stock with 16″ (P195/55R16) Bridgestone Turanza EL400 tires. As usual, stock OEM tires are generally low wearing (they're cheaper, and they tend to be quieter). They lasted us about 26k miles. At that point (Sept 2008), we purchased Bridgestone Potenza G019 Grid's, which was one of the few options available for the car at the time. There were no real low rolling resistance (LRR from here-on) available at that time. These were decent tires, for a while. We lost some MPGs with them, but that's normal for new tires (new tires have higher rolling resistance than worn ones). What we didn't expect was that they became exceedingly noisy (by the time we put 40k miles on them, they sounded like mudding tires on a truck). Turns out, they were cupping quite badly on the inside edge. Speaking with the local Firestone manager, he said it was pretty common with those tires, partly because they're unidirectional (when you rotate them, you basically have to keep them on the same side of the car). But that should only explain one side cupping… all four were cupped significantly. Reading online, this seems to be a common complaint, so I'd imagine it's something with the design.
Anyway, we just bought some real LRR tires to replace the Potenza's (as the shop said they were getting near the end of their life, and the cupping noise was beyond bearable): Bridgestone Ecopia EP422's (review of them in the coming months). And man oh man, are they sweet. The car feels like it's floating, and it's as silent as can be. Anyway, now that I'm done with the Potenzas, I figured I'd do some comparisons on mileage, and in a way, how rolling resistance really can matter.
So, with all that said, here are some basic stats. We've got about 66k miles on our Prius since Dec 2006, which means we average about 1,150 miles/month. We had the original tires, the Bridgestone Turanza EL400's, for approximately 20 months, and put just over 25k miles on them. During that time, we averaged 46.46MPG according to the onboard computer, or 45.7MPG according to the calculated values based on miles per tank, and how much gas is needed to fill the tank1. All and all, they were good tires, but didn't last very long. When the time came to replace them (Sept 2008), options were extremely limited. It largely came down to another set of the Turanzas, the Potenza G019 Grids, or the Falken ZE-912. Speaking with some friends and others online, I went with the Potenzas. My experience with them I've already detailed, but regardless, we had them for just over 38k miles, and during that time, we averaged 44.55MPG according to the computer, and 43.77 according to calculated numbers.
Right off the bat, you'll see we lost about 2MPG with these tires. But just looking at the totals doesn't really show the full picture since we had the Potenzas for over 20k miles (or about 16 months) longer than the Turanzas, and therefore an extra 2 winters (where we get lower MPG, which would pull down the average). So, with that in mind, let's look at a graph of milage for each set of tires, from the first January we had them, until month 20.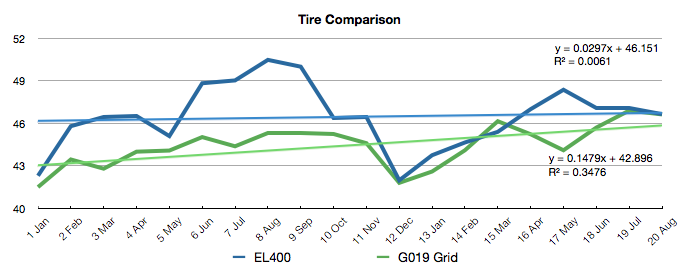 One think you'll notice, is the trend lines are positive, and more importantly, they are converging. I kind of expected this, but was still surprised to see it. New tires have a higher rolling resistance than used tires, and this shows that the average MPG2 is indeed increasing. As for the convergence, it should mean that if both sets of tires lasted for x amount of months, I would get the same mileage on both in month 273. This isn't quite accurate, but it does show that as tires age, even ones that aren't meant for LRR, they do get more efficient. This can be seen with the Potenzas getting their first 50MPG tank (via the onboard computer) in the last month I had them. Whereas the Turanzas had 7 tanks that all averaged above 50MPG (all clustered around the Summer of 2007, and two in 2008)4.
So, what does this all mean? Well, on the highest level, it means: Rolling resistance matters. The easiest way to lower your rolling resistance is to make sure your tires are properly inflated. President Obama got a lot of flack for it when he said it, but it was true. Properly inflating your tires can increase your mileage 5-10%5. Check the pressure when the tires are cold (not driven within the last several hours), and check it at least once a month6. If you're in the market for new tires, and you're just driving normally (not racing, or mudding, etc), see if you can get LRR tires for your car. With gas prices how they are, every little bit helps. And tire pressure/rolling resistance really can influence your mileage.