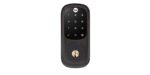 I recently purchased a Yale YRD226 off eBay for next to free ($35) that came with the zwave plus module. Was sold for parts/repair. Figured even if it didn't work, it would be worth it just for the Z-wave module.
I got the unit and it appeared brand new, albeit terribly packaged. I powered it up, got it enrolled in my Z-wave mesh, and didn't think anything of it trying in vane to calibrate the motor since it wasn't in the door at the time.
Today, I installed it, and it would fail it's handing (figuring out which side of a door it was installed on, which direction was lock vs unlock, etc). I THOUGHT it was locking and not realizing it was locking, but then I hit "lock" on my Hubitat, and it unlocked. Huh. I factory reset twice, and did the auto-handing via the keypad, and neither fixed it. Calling Yale, they said it's likely a failed sensor, but I would need proof of purchase to get the back unit replaced. Now knowing where the sensor in question likely was, I took the unit to the bench.
So, under the microscope, I noticed just above the motor shaft there was a nice dent. Some sharp probes on my multimeter showed the track going to one of the latch IR sensors was busted. Sorry I don't have pictures! I've yet to get a camera for my microscope.
After some scraping of the PCB solder mask and conformal coating, some 30AWG wire, and I was able to bridge the gap. Installing back on the door, it powered up and again had issues, but then I went in and did the auto-handing. It calibrated! Fixed!
So, long and short of it, likely previous owner either wasn't careful and bashed the PCB with the latch "bar" missing the motor output, or it was damaged in shipping from the seller. But, it's now fixed! If it breaks again, I'll drill out the via on the board and solder directly to the IR sensor. Sadly, I didn't have any good "glue" to hold the wire in place from vibration from the motor (and door opening/closing). May need to reevaluate that and throw some non-acidic silicone on there.
Kudos to the Yale support I talked to. While they did say it would void the warranty to repair the lock, I didn't have a warranty to void, so them sharing that the sensor was on the "back side" piece of the lock was enough to look and find the damage! This lock is replacing a Schlage Z-Wave lock I've had issues with, but I will say, Schlage do a better job of protecting the PCB from accidents.