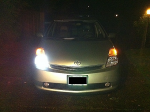 This post is a bit of a rant on my ongoing HID replacement Saga, but at this point, I'm rather pissed at the dealer, and Toyota corporate.
I've owned two Toyota's in my life1. I had a '96 Camry that alas, I wrecked, but got fixed and drove for another couple years. Then, in 2006, I ordered a 2007 Prius Touring that by and large has been a great car… once I got it2. But, starting shortly after having it serviced, I started getting the problem where the HID headlights would flicker, and then shut off. You could "fix" this by turning the lights off, and back on… but sometimes they'd go out several times during a night drive, which was no only annoying, but seriously dangerous.
Anyway, I took the car in to the dealer I purchased it from (Kendall Toyota in Eugene) in Jan of 2010 (I had maybe 46k miles on it at that time). They were only able to reproduce the issue on one side, and after being forced to call Toyota Corporate, they would only cover the bulb on one side, and labor. Fine, I declined, and went about my business. Now, this last year, Toyota settled a class action lawsuit about this very issue3. After calling the dealer to schedule the other recalls on the car (gas pedal, and HV pump), they said they had no record of me bringing it in about the lights. Convenient. So, I called Corporate since they should have knowledge. Calling them, they had the case, but no record of mileage. Awesome x 2. But, I talked to them, and they said the dealer had to reproduce the issue again because it'd been more than a year since the original issue. Ugh. Fine.
So, my wife drops the car off at 10am or so. Less than 2 hours later, I get a call saying they can't reproduce. Seriously? 2 hours? That's it? You have other work to do on the car, why can't you just run the lights the whole time? Fine. So I discuss with the service guy what he can do. He says the Service Manager offered to take the cost of about $400 down to about $320. Really? Wow, how nice to knock off 20% for something that should be covered. He says he'll call the district customer care guy. He calls me back over an hour later, and says the district guy basically said "no" and asked "how long does he expect light bulbs to last?" Seriously? You're asking me if I'm being irrational? This started before 50k, and 5 years, so obviously I don't expect them to last any longer than Toyota does, and when I bought the car, the salesman specifically said they'd last forever (I'm sure "within reason"). They're HIDs. They should last quite some time. And there are known issues from bulbs in that era since they just started making them mercury free. Issues arose. They make them better now.
So, I asked what else he could do? Could I take a picture/video when it happened? Would that count? I never got an answer to that question, but I did have it happen later that night, and took a video. Anyway, he talked to the store customer service person, and he "respectfully declined" to assist. And maybe I could call Corporate back. What?! Okay… maybe I'm daft, but shouldn't the in-store customer service rep be the "advocate" to the customer? What the hell is he/she there for? Why should _I_ have to call corporate? Maybe I've been wrong all these years, but I always thought of Toyota as the "Apple" of auto makers. You pay more, but you get a great car and experience. I've taken out of warranty, or self inflicted damage to an Apple Store, and you know what? It gets replaced/fixed… no questions asked. Because Apple knows what Bob Farrell used to say: "Give them the Pickle". A happy, well served customer will be worth far more than arguing with them over something. I think Mike Holmes also nails it with "Make it Right". Especially when it comes to a safety issue.
So all that done, I say "fine, I'll just pick up the car, and call corporate". So, a shuttle comes and gets me, and the guy driving it is extremely nice, and happens to live right next door (practically) to me. I get to the dealer, and the Service contact doesn't say a word to me. He walks by me 3 times, doesn't say peep. His office mate is who helps me, and I get the keys, and end up waiting in the service center and chat more with the shuttle driver, all the while, the Service contact walks by me and helps someone else. Nice. Turns out, looking at the car the next day, the tech lost 3 clips that hold on the radiator shield, and didn't put a hose back in it's clip. But worse, didn't get all the air out of my coolant system. It's gurgled for the last day. We'll see how long that lasts after I topped it off.
Ironically, the dealer sent me a satisfaction survey today. I largely blasted them. I doubt I'll hear back, but my take away was that _I_ wasn't the customer, Toyota and the dealer were. I just happened to be the person who had possession of the car. I doubt anything will come of it. All and all, I love my car. But at this point, I'm seriously going to look at moving to the other dealer in town for my next purchase (a plugin hybrid), or look at other manufacturers. I'll update more if I hear anything back, but like I said, _I_ shouldn't have to call Corporate. All I should have to want is a fix, and the dealer (who you pay extra to use for service/parts4), should do everything in their power to get it fixed. Period. I"m the customer. I'm the one you're here to help get a resolution, not just tell me "sorry, we respectfully decline" or "how long does he expect bulbs to last". Those are shitty answers. The correct answer is "Let's get this fixed, and we'll deal with the rest". Should the dealer be on the hook for paying for the bulb replacement? No. But apparently they also don't have the authority, or the desire, to step up and say "let's fix this". And that's a big disappointment from the company I thought was truly better than other car manufacturers for both their product, and their customer service.
Update 1 (2012/2/07)I tweeted Toyota Customer service about this issue, and after asking for my case number, they proceeded to tell me to continue to work with my dealer and corporate. Really. I should keep banging my head against the wall. Awesome. Also, I got a call from the dealer customer care rep, and after she had to call corporate since she couldn't find my case, she basically said "there's nothing we can do". Awesome. So basically, my options are corporate, or nothing.
Update 2 (2012/2/16)After waiting to cool off a bit, I just emailed customer care with everything I have, and a detailed explanation of the situation since no one else seemed to get all the pieces in order. At this point, I have very little hope. I would like to think Toyota wouldn't throw away a loyal customer, future purchase (Plugin Hybrid), and source of references to their products over less than $200 worth of parts and service (Amazon wants ~$51 per bulb, and it would take less than an hour to do the work, even if they do remove the bumper). But, maybe I'm crazy and they don't give a rats ass what I think, or what I tell people about their customer service5. I'm also quite curious what the Class Action lawyers would think of Toyota not honoring the settlement (I have evidence in the initial case call that this started before 5 years, and I have records from a 3rd party that the car was under 50k miles at that time). I have no idea what recourse they have in that case, but if I don't get some positive resolution from Toyota, I will at least let the law firm know. Link to settlement.
Update 3 (2012/6/28): Today marks the end of my saga. Last week I emailed Toyota again to vent frustration at the fact that no one had ever emailed me, but instead tried to call, against my wishes. =/ Anyway, they quickly forwarded that to my case manager, and he called me the next day. I explained that the dealer was unable to reproduce the issue after only trying for maybe 10 minutes, and that really all I was trying to do is establish a timeline saying that when the dealer first reproduced the issue I was under the limit specified by the class action settlement. He took this all down, and said he would call back. Next day, he called back and lo and behold, he said they'd replace the driver's side HID free of charge, with no budging on the passenger side. Said the dealer would be in contact.
The next day, I got a call from the dealer (a different guy that I've previously dealt with), and he basically asked when I'd want to do the install. I asked if he'd be willing to install a bulb in the passenger side if I bought one off Amazon. He said he would since this whole thing had been a huge deal for me. So, I ordered the bulb and got in yesterday, and had them both swapped out at the dealer today. Took them about 30 minutes (not bad).
All and all, Toyota has, I think, redeemed itself. While it would have been better for them to replace both bulbs (since it's silly to replace only one), I can see why they wouldn't given the fact they'd never seen the passenger side fail. Here's hoping that I never have to deal with failing HIDs again (I'm hoping my next car will have LED headlights =) ).