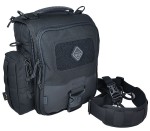 I've been a big fan of "murse's" for a long time. I carry way too much crap to fit in pockets, and I used to use belt holsters, but it was just too much. It seems like rather than being called murse's anymore, they're referred to by EDC, or Everyday Carry. Often this refers to a firearm as well, but in my case, it's usually gear like a computer, multitool, firstaid kit, business cards, iPhone, and various other items.
When I got an iPad, I moved from my rather large Timbuk2 Messenger (for a 15″ laptop), to a more reasonable bag by Caselogic that was cheap at BestBuy ($10). It's served me well, but I've been looking at other bags.
Right now, I'm largely looking at the Hazard4 Kato Mini-Messenger here. But $100 is a lot to part with for this type of thing. The advantage, though, is it'll hold an 11″ Macbook Air (which is on my shortlist), and with all the Molle loops, you can pretty much add on about any other pouch to hold what it won't "stock".
I'm hoping to get ahold of the bag in the coming weeks, and review it. Here's a good thread on the bag at edcforums. My big questions are: Can it take an iPad/Macbook Air, and a Nook Simple Touch. And maybe add to that a game console (Nintendo DS), multitool, flashlight, phone, keys, first aid stuff, etc. That's what I currently carry in my e-Sling, and this bag LOOKS much better than the eSling, plus is probably made better.
UPDATE 1 (2012/07/10): I have yet to get the bag, or any new bag, as I'm stuck in the ever perpetual searching mode. There are several different bags that all look good, but none seem perfect. My biggest issue is finding one with little/no hook-loop closure. I HATE velcro used in this manner (the loop field wears out). I was hoping that Thinkgeek would send me a bag to review, but alas, it was not to be. =/ Will post back when I have more.