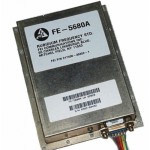 A seller on eBay recently listed some FE-5680A Rubidium Oscillators for $30 + $10 shipping for parts repair, and I couldn't pass up the chance to pick one up, especially when there's so much info out there, and the wonderful FAQ here.
The unit arrived in the mail after two weeks, so I set about wiring it up. Since I only have a single output bench PSU, I had to wire up a simple 5V regulator (just an LM7805CV with heatsink) to supply the 5V logic power needed for the unit1 and fed that with my PSU supplying 15V 2A to the whole circuit2.
On first power up (on the messy breadboard), the unit warmed up, and BRIEFLY locked (pin 3 went low), then quickly fell out of lock, and dashed my hopes it would work out of the box (on the plus side, I got to do a repair!). The repair, of sorts, generally involves adjusting a trim-cap in the unit to make sure the PLL sweeps through 10Mhz. You can check if this is the issue by looking at the output (Pin 7) on a counter, and seeing if it goes above/below 10Mhz on its sweep. In my case, it did not, and went from about 9.99970Mhz to 9.99998Mhz, then back down (about a 280Khz sweep). The fix is to remove the top cover (more on that in a sec), move some foam aside, and adjust C2173.
As a note: if you forget/forgo to apply 5V to the unit, you'll get no output at all from Pin 7 (and Pin 6 only outputs 1PPS once lock is achieved). I spent several minutes the other day trying to figure out why my counter was just picking up noise until I noticed the 5V lead had come unplugged from my breadboard [↩]
Note, you may want to JUST power the 5V circuitry and limit your power supply to 80mA or so to make sure you're not going to fry anything. A lot of people note that there's no protection on the 5V rail, and have accidentally supplied 15V to it and blown everything out [↩]
If you're interested, this fix appears to be necessary after time since the oscillator (VCXO) in the unit (not the Physics package) drifts due to long term heat exposure, and adjusting this cap corrects that drift [↩]