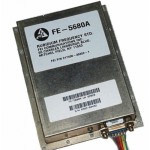 A seller on eBay recently listed some FE-5680A Rubidium Oscillators for $30 + $10 shipping for parts repair, and I couldn't pass up the chance to pick one up, especially when there's so much info out there, and the wonderful FAQ here.
The unit arrived in the mail after two weeks, so I set about wiring it up. Since I only have a single output bench PSU, I had to wire up a simple 5V regulator (just an LM7805CV with heatsink) to supply the 5V logic power needed for the unit1 and fed that with my PSU supplying 15V 2A to the whole circuit2.
On first power up (on the messy breadboard), the unit warmed up, and BRIEFLY locked (pin 3 went low), then quickly fell out of lock, and dashed my hopes it would work out of the box (on the plus side, I got to do a repair!). The repair, of sorts, generally involves adjusting a trim-cap in the unit to make sure the PLL sweeps through 10Mhz. You can check if this is the issue by looking at the output (Pin 7) on a counter, and seeing if it goes above/below 10Mhz on its sweep. In my case, it did not, and went from about 9.99970Mhz to 9.99998Mhz, then back down (about a 280Khz sweep). The fix is to remove the top cover (more on that in a sec), move some foam aside, and adjust C2173.
To detail the fix, first confirm that the unit isn't sweeping through 10.000000 (or however many zeros you have), Megahertz. If it is, and you still do not have a lock after 3-5 minutes, then there's most likely something else wrong with the unit (or your counter is off). If it isn't sweeping through that, then you'll need to remove the top cover. This means removing the screws on both ends, then the screws next to the DB-9 connector (two on the side, and two on the bottom), then two screws on the top cover (both under labels). Do not remove the two screws on the bottom, as those are what attach the bottom plate to the unit (if you did remove them, put them back in so you have something to pry against). Once that's done, you'll have to work your way around the top cover (gently) prying it up. In my case, this took a couple passes all the way around as it was a bit stuck. One it was off, you're greeted with a couple piece of crunchy foam held on my Kapton tape, and a few of the physics package. Move one of those pieces of foam aside (the one NOT next to the physics package), and you'll see two trim-caps, one of which is C217. I rotated it about 5 degrees clockwise to adjust for my drift, then put the top back on the unit (without bothering with the screws), and powered it back up.
Within about 3 minutes, the unit locked, and showed a nice solid 10.000000Mhz with a .1s gate time (with my Racal-Dana 1992). Once my 1992 warmed up for a couple days, I came back and checked the Rb with a 10s gate time, and found my 1992 was only out by 8-9mhz (that's millihertz)… That's with the 04A (OCXO) option. Pretty amazing. One start up the unit will draw a full 2A briefly, then come down to about 1.7A at 15V for a couple minutes, eventually coming to rest at ~.7A total (that's including the 80mA or so needed for the 5V rail)… which works out to about 10W once it's warm. Not sure if that can be reduced at all, though reports online indicate once the unit is warm, you can drop the voltage down to around 11V if you don't mind longer lock times. While I haven't tried this, it would certainly help with the LM7805 heating up.
Total, the "repair" took less than 10 minutes. I'm not sure what I'll do with mine since I'm working on my GPSDO, but maybe I'll use it as an alternate standard/sanity check. That, or I'm just slowly turning into a time-nut4. I've ordered a Hammond 1590D enclosure for the unit, and plan to design a simple board for power distribution, as well as output buffering and lock indication. I'll post about that in a future article.
Thanks all, and good luck!