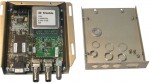 My quest for a solid 10Mhz signal finally took it's penultimate step recently, when I purchased a Trimble Thunderbolt GPSDO off eBay.
The unit arrived packed well, and in good shape. It even came with a power connector, which I had not expected. After rewiring it properly (it seemed "off"), I hooked up my Rigol DP832 for the ±12V supplies, and +5V supply, and powered the unit up. Everything looked okay except the +5V rail was drawing about 3x what it should. Oh, and the 10Mhz output being "out" by +26Hz (I wondered if this was because the unit was still powering up, so it didn't bother disciplining the oscillator yet).
Hooking up a serial connection got no output, and probing the serial connection with the scope showed very low level signals (less than 1Vpp). Opening the unit, I found that the RS232 transceiver (a 232IBE, which is now called a ICL232, or any other number of MAX232 derivatives) was HOT. Everything else looked good for the unit, so my assumption is the chip was damaged. I clipped the leads and replaced the chip with a MAX202 made by TI. It's pin compatible, but has much better tolerance for ESD and Latch-up (which seemed to be what was going on with the failed chip).