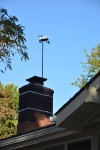 I purchased a LaCrosse WS2316 weather station from Costco shortly after I bought my house in 2007, and have been sending data to Wunderground.net and CWOP since. But, alas, after nearly 6 years in service, that weather station started producing bad data a couple weeks ago, and it was time to upgrade.
Luckily for me, someone had just agreed to purchase my old laptop, and I had the money to both buy a new weather station, and upgrade at the same time. =) So, after some quick research (since a colleague had just purchased one himself and loved it), I picked up a Davis Vantage Vue and Weatherlink adapter online (review forthcoming). After a wait for shipping, and a couple days to the weekend, I finally got it installed on Oct 6th, 2013, and the data from it is now flowing and visible via the links under my webcam image. For reference, it's installed 22′ 6.5″ above the ground on a 10′ AntennaCraft mast (purchased at Radioshack locally) that I cut in half, and flipped (effectively becoming 2x 5′ masts), and secured with Chimney mast mounts also purchased at Radioshack that I was previously using for my previous weather stations anemometer. This should make servicing the station easier in the future since I'll be able to just take down the single 5′ mast rather than wrestle with a 10′ mast, the chimney straps, etc. I'm pretty darn happy with how it turned out, and especially the data I'm getting.
More when I post the review of the Vantage Vue itself.