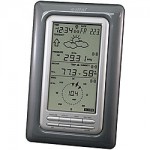 The cable for my La Crosse WS-2316 anemometer failed catastrophically (it was severed) 5 days ago, and alas, I didn't notice it until CWOP showed no valid weather data for the last 5 days. I guess they don't accept anything if you don't have wind data.
Anyway, after a trip to the roof, and some soldering, I replaced the former 4 strand, untwisted phone cable with same shielded cat5e, al la this.
So far, seems to work great. And I took some extra time to wrap the areas of the cable that make contact with anything else with electrical tape. Hopefully this will keep the same thing from happening again. If not, I'll have to extend my conduit down. =/
The biggest issue was figuring out you have to tell the station to start looking for wind data again (press and hold the "Pressure" button for about 5 seconds, and it will resync with the outdoor piece).
I had been meaning to do this mod for some time, but I guess nature forced my hand. Anyway, weather data is flowing again.