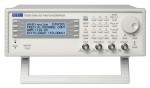 In my quest to learn electronics, as well as use some more advanced tools to diagnose broken electronics, I recently purchased a function generator. I got from reading online that I really wanted a DDS generator as analog ones, while still useful, aren't capable of really high accuracy anymore, and that I didn't want to spend that much on one. The one that seemed to come up a lot is the SFG-1003, which is a 3Mhz DDS generator for about $150 through Amazon. Knowing this was my price point, I went to eBay to see what I could find. As luck would have it, I found a TTi TG1000 that was being sold "for parts" that had a very descriptive image for the item. A powered up LCD backlight, but no other display, as well as an image of the back of the unit that clearly showed it was configured for 230V. This reminded me of the TTi power supply I bought a bit ago. The seller wanted $350 for it, but I managed to get it for $150 including shipping. Score!
After receiving it (which it was extremely well packed), it SMELLED brand new. On opening it, this was largely confirmed by a sticker on the transformer saying it was manufactured in July of 2011. It seemed to have very little use, and the front panel seemed extremely clean. The unit SEEMS a bit cheap in the casing. It certainly doesn't pass the "Dave" test for how solidly the unit is built. The top and bottom of the case are held together with 4 plastic rivets, that kind of flex and creek when moved. This isn't to say the unit isn't good, it just feels a bit "cheap". But, it's made in England, which is no doubt a good chunk of why the device costs more than most Chinese made Arbitrary Waveform Generators (TG1000 is about $700 new, where a Rigol DG1022a is about $450 new). One big advantage of the TG1000 though is that it'll do a square wave up to 10Mhz (the Rigol DG1022a will only do square waves to 5mhz), though my scope shows those waves to be pretty ugly. This could be due to my scope, the wiring, or something I'm doing wrong. But, I don't really plan on doing that high of frequency work (above 1Mhz will probably be rare), so it's not that big of a deal. Also a plus, I emailed Thurlby-Thandar about getting the service manual, and they responded next day with a pdf version (well, for the TG2000, which is basically the same device).
In the manual for the unit, it specifically talks about changing the configuration for 115V vs. 230V. Unfortunately, it required removing the whole main board, so I could remove a 0Ω resistor, and then adding two links to two other positions (see picture, two yellow and black striped links between the power input, and transformer), but after reassembly, it powered up immediately, ran self tests, and started output of a 10Khz sine wave. Sweet! While I was doing the soldering, I also noticed that TTi seemed to use the same board for both the TG2000, and the TG1000, but unfortunately, unlike the Rigol DS1000 series, it doesn't seem like it's a software change to get the added functionality. While there are solder points for the RS232, and USB connections, there are also chips missing for said RS232 connectivity and USB (the Service manual actually shows the USB connectivity would be provided by a FTDI chip). Ah well. I also added a label to the back to say it's configured for 115V operation now.
In testing the unit, I was using a BNC Tee and a 50Ω terminator into the Scope, but then I saw the TG1000 has a "HiZ" output setting (as well as the standard 50Ω and 600Ω output), which basically treats it as an open cirtuit, which allowed me to just go straight into the scope, and get accurate readings. Double score!
I'm very happy with the unit. Purchase was a breeze thanks to a great seller, and getting 115V working took about 10 minutes (couple for teardown, all of 2 minutes of soldering, and a couple to re-assemble). All at the cost of a cheaper, less capable FG!
[xrr rating=4.75/5]