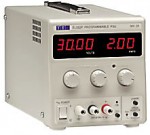 For the last several weeks I've been really interested in electronic circuit design. I've been buying components for little projects, a bigger breadboard, shopping for an Oscilloscope, and recently purchased a bench top power supply.
Shopping for the power supply involved a fair amount of eBay. But after a week or two of looking, and reading reviews, I found the Thurlby Thandar (TTi) EL302P (shown on the left) on eBay from a seller for a total of $86 with shipping. Only caveat was that the screen was non-functional. No problem, I can either fix it, or just use the computer interface. So I purchase and wait eagerly.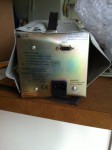 I get shipment notification through USPS, and then nothing else. No updates or anything. After wondering for about a week a large, semi-destroyed (tracking barcode has been torn through), box shows up on my doorstep. Dreading the contents, I open it to find the power supply, only it looks like the picture on the right. Pretty much toast I'm thinking.
The local post office went so far as to stamp the box as "received damaged" to remove blame from themselves. So the damage must have occurred earlier in transit.
I contact the seller, and he refunds the purchase and shipping no questions asked saying USPS can be difficult to get payment out of. And tells me to keep the unit since it's no good to him.
My interest piqued I immediately pull the whole thing apart and realize two things. 1. The front panel somehow survived unharmed. And 2. The insides are completely intact save one severed wire that I can easily replace. So, channeling my grandfather (who owned a autobody shop), I take a rubber mallet, and my bench vise to the chassis and top cover, and get to work.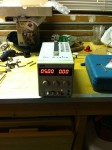 With no details, a couple days later, I have the picture you see on the left. Nearly as good as new. Plus, once I had the unit opened I saw it was still wired for 230V rather than 115V. Some quick soldering and shrink tubing later, and I have a unit that works perfectly. Apparently these units will "sort of" power up if set to 230V and plugged into 115V, but obviously the other way around would result in a "pop".
I'm obviously pretty happy with the result. I've replaced the fuse, and the bumpons on the bottom since they were pretty old, and had shifted. Testing the unit with a 12V 35W bulb was encouraging, as well as with a multimeter. I hope to build up an adjustable dummy load this weekend and give it a real test at it's full range. But for a free bench supply, with a couple hours work (and less than $10 in parts for the bumpons, fuse, and a couple replacement speed nuts), I'm extremely happy.
Also, testing the RS-232 worked perfectly as well. The command set is extremely simple, you just have to make sure your terminal program uses LR for line termination. Should be interesting to see the  output of this unit once I have an oscilloscope.