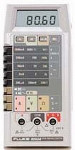 I recently purchased a "Parts/Repair" Fluke 8060a off eBay for $25, and have been working on and off to repair it for the last couple weeks. When it arrived, it was quite dirty (as to be expected for a 20+ year old multimeter), and was a bit spotty in performance. It would power on, but it took some time to come up, and the readings were all over the place.
So, having read a fair bit about repairing them on the wonderful site by Mr. Modem Head, I started first by disassembling the meter to clean up the case in some Mr. Clean all purpose cleaner. Interestingly, after getting the case off, I found that the COM jack had broken loose of the PCB and just spun freely. First time for everything (I'd get that soldered up later).
Cleaning the case was quite easy, and just took some time to dry as there's a metal shield on the interior of the back panel that cannot be removed, and therefore requires some time for the water to dry between it and the case, and after a few days, I had a nice clean case. Soldering the jack back in place just entailed firing up the soldering iron, and placing the whole tip into the jack and letting it get it nice and hot, and running solder around the jack and the PCB (similar to soldering copper pipe with a torch). I also cleaned up the LCD crystal with some plastic polish (PlastiX), and a polishing end on my drill press (set to the lowest speed, about 600rpm). This took a good 20-30 minutes of polishing to get the scratches to blend with the rest of the crystal.