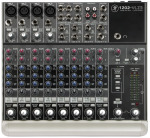 Another repair from my dad is this Maxie 1202 mixer, a 12 channel analog mixer, that has scratchy/noisy potentiometers, and one channel is reported as pretty much completely dead. Knowing it was all pots, and the unit was going on 20 years old now, I figured it was just dirty.
Taking the mixer apart was relatively time consuming, since you have to pull all the nobs. After removing the back, I did notice that the glue holding down the two power supply filter caps had lost hold, so that was added to my list of fixes (nothing a little hot glue couldn't fix). I always find it interesting when companies use LM317's and LM337's for their power supplies. I guess it does let them set the upper and lower supply rails outside the standard ±5, ±9, ±12, etc.
Total time for disassembly was about 20 minutes. I made sure to index the screws using this handy mat. I also threw all the nobs into a bowl. Interestingly the upper and lower boards of the mixer are joined together by solid core, uninsulated, wire. So I had to keep the upper board slightly elevated from the lower one.