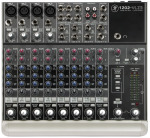 Another repair from my dad is this Maxie 1202 mixer, a 12 channel analog mixer, that has scratchy/noisy potentiometers, and one channel is reported as pretty much completely dead. Knowing it was all pots, and the unit was going on 20 years old now, I figured it was just dirty.
Taking the mixer apart was relatively time consuming, since you have to pull all the nobs. After removing the back, I did notice that the glue holding down the two power supply filter caps had lost hold, so that was added to my list of fixes (nothing a little hot glue couldn't fix). I always find it interesting when companies use LM317's and LM337's for their power supplies. I guess it does let them set the upper and lower supply rails outside the standard ±5, ±9, ±12, etc.
Total time for disassembly was about 20 minutes. I made sure to index the screws using this handy mat. I also threw all the nobs into a bowl. Interestingly the upper and lower boards of the mixer are joined together by solid core, uninsulated, wire. So I had to keep the upper board slightly elevated from the lower one.
Cleaning was simply a squirt or two of Deoxit D5S-6 (contact cleaner) spray, several turns, then on to the next. After cleaning all the pots, I used an air compressor to blow most of the residue away, then applied Deoxit F5S-H6 (Fader Lube) spray, and several more turns. This returned a bit of the feed of the potentiometers. Previous to that, they just slipped between extremes a bit easily. Had there been any real fader/sliders, I would have followed that up with some Fader grease, but there wasn't anywhere to put it. I also used the D5 on the pushbutton switches, as well as a bit on a cotton swab to clean all the 1/4″ plugs, and XLR contacts.
One last thorough blow-dry with the air compressor, and it was ready to put back together. This took about 10 minutes. I referenced a picture for putting the nobs back in their right place. Note, there are a few nobs that are "smaller" than the rest. They fit on any potentiometer, but they only look right when they're placed in the VU area.
After that, I hooked up my Function Generator, as well as music player to the mixer, and a set of headphones, and tested everything. No crackling or dead spots at all. Hooray!
Total time of repair, probably 2 hours. Hopefully it'll give my dad another 10 years of use.
Of note, also, I managed to get the service manual for the unit from Mackie, and have posted it here.