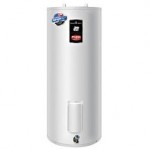 Yesterday, I replaced the thermostats on my water heater, and since I had to turn the power off for that, I decided it would also make sense to flush it since it's about 6 years old. Anyway, drained it completely, ran cold water through it for about 10 minutes, then filled it back full of cold water, and turned on the power.
I was kind of surprised that it took over an hour to completely heat the water. Then today, I started thinking about it and thought "wait a second! I minored in chem. I should be able to calculate this". So, let's see what we know, and then do some basic math!
Knowns:
Water heater size is 50 gallons
Element size is 4500 watts
Incoming water temp (ground water) is 61F (right now)
Water heater thermostat is set to 115F
Since we're dealing with Imperial units here, we'll stick with them (as painful as that may be).
1 gallon weighs 8.345 pounds (lbs)
1 watt/hour is equal to 3.412 BTUs
Quick definition of BTU: "The quantity of heat required to raise the temperature of one pound of water one degree at a constant pressure of one atmosphere".