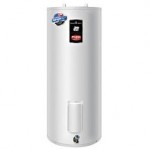 Yesterday, I replaced the thermostats on my water heater, and since I had to turn the power off for that, I decided it would also make sense to flush it since it's about 6 years old. Anyway, drained it completely, ran cold water through it for about 10 minutes, then filled it back full of cold water, and turned on the power.
I was kind of surprised that it took over an hour to completely heat the water. Then today, I started thinking about it and thought "wait a second! I minored in chem. I should be able to calculate this". So, let's see what we know, and then do some basic math!
Knowns:
Water heater size is 50 gallons
Element size is 4500 watts
Incoming water temp (ground water) is 61F (right now)
Water heater thermostat is set to 115F
Since we're dealing with Imperial units here, we'll stick with them (as painful as that may be).
1 gallon weighs 8.345 pounds (lbs)
1 watt/hour is equal to 3.412 BTUs
Quick definition of BTU: "The quantity of heat required to raise the temperature of one pound of water one degree at a constant pressure of one atmosphere".
So, let's go.
50gal water heater has 417.25lbs of water. The ΔTemp from 61F to 115F is 54F. This should be a simple multiplication of 417.25lbs of water by 54F which comes to 22,531.5BTUs. Divide this by the number of BTUs put out by a 4500 watt element for an hour, 15,354BTUs, and you get ~1.47 hours (or about 1 hour and 28 minutes). Comparing this to my power usage graphs, the water heater ran for 1 hour and 20 minutes. The other thing that doesn't equate is the fact that pressure rises as the water temperature rises in the tank. But, I'm not sure how MUCH of a difference that makes (and I really don't want to take the time to figure it out).
The only reasons I can think that that heater ran for less time than ideal are: heat from the element that's screwed in directly below the thermostat makes it trigger early, residual heat of the tank, and/or, the water layering, such that the water on the very bottom wouldn't have been fully up to temp.
In short, it's cool to find real world examples for chemistry/physics knowledge, regardless of how little actual chemistry/physics knowledge you need.