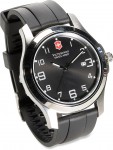 For our fifth anniversary, my wife and I bought each other1 Victorinox (Swiss Army) Garrison Elegance watches, or as they're generally known, the $125 REI Swiss Army watch. The Men's watch features a 1.25″ face, and the women's a 1″ face2. The movement is quartz, but it's made in Switzerland. From what I've heard, REI and Victorinox worked together to design a watch with this build quality, and price point. Given the cost to my wife's shop, REI can't be making a very big profit on these watches (neither could Victorinox for that matter).
The back is screw on, which leads to a tighter water seal, but the crown (the nob that you use to adjust the date/time) is not screw down, so the claim of 100m (330ft) is probably not realistic. The band is a silicon rubber, and the biggest problem with it is sweat. In the sun, my arm tends to sweat a bit, and causes the watch to be a bit gross. I might try out the nylon band option at some point, see how that fares, but nylon is going to tend to snag more. The hands, and dots above each number glow in the dark, and overall, the glow is not obnoxious.
The real advantage to this watch is that as the name implies, it serves very well as a casual every day watch, as well as a dressier watch. No, it's no Rolex, but at 1/20th the price of the lowest cost Rolex's, it's certainly more affordable3. Another awesome "feature" is the affordability of parts. The crystal (quartz as well) is only $10 to replace. The band is about $10, and the whole movement is only $25 (obviously none of this includes labor). This watch should certainly last me 10+ years assuming I don't lose it in a lake.
It's been 10+ years since I've regularly worn a watch, and this one certainly doesn't make me feel like I'm wearing a bulbous weight on my arm.
Both watches have performed very well, and I would gladly buy them again. If you're looking for an inexpensive, analog, dress/everyday watch, this might be a good one to consider. I only wish that REI stocked them more reliably (they almost always have the women's, but not the men's).
[xrr rating=5/5]
In reality, she bought both from work (a jewelry store), and had them engraved, but, it's the thought [↩]
in all honesty, I first liked this watch when I was looking at the women's size, since I don't like bulky watches [↩]
Mind you, Rolex's are all mechanical rather than quartz movements [↩]