I have been facinated by the Vibram FiveFingers since I first read about them online almost a year ago. Since then I have been checking the local REI every so often to see if they have them in. This week, they finally had them.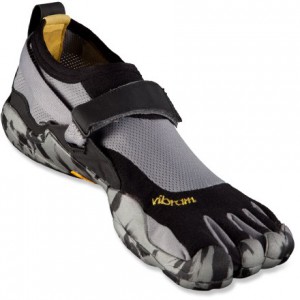 First, I'll say, trying them out is a process. If you can find them in a local store, go to that store prepared to spend probably an hour trying them on. First, go here and mainly, figure out the sizes you SHOULD be. Go to the store with that knowledge, and you will be much better off than just randomly trying on different things. Also note, different models fit differently. At the local REI, they have 3 models in Mens and 3 in womens (Classic, Sprint, and KSO). They all fit a bit differently, so basically, try on your size in one, then the size above and below. And maybe even the opposite gender version (if they offer the size you need) if the fit is a bit off on your gender (the difference between the gender's is the womens are supposedly narrower at the heel, and ball of the foot… though I didn't notice). Also note that feet change size/shape throughout the day. Especially if you work standing up all day.
All that said, my experience was a trip to REI on Tuesday night with my wife and a friend. We spent probably an hour or so trying them on, testing them out, etc. After all was said and done, I went home with some 41 Men's, KSO's. Once home, I tried them on again, and came to the conclusion they might have been too big. So, we jumped back in the car, and headed back to REI, where I tried on the 40 Men's KSOs. They were too tight. So, I decided to wait through the night, and try again the next day (mainly because my big toe was upset at being in the 40's).
Next night, we went back. I tried on every model/gender they had in my size (took probably another hour). The 41 Men's KSOs fit the best. But, being über paranoid, I decided to wait again, and went home. Next morning I woke up, and realized I wanted to take the plunge. So, my wife went and picked up the 41 Men's KSOs again, and brought them to me at work.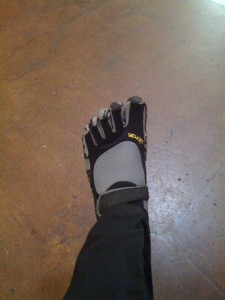 I put them on, loved them, and wore them all day. It was a blast. On a tactile level, they make walking a pleasure. I've never done ecstasy, but I can imagine that it would be absolutely amazing with these on. Everything you want on feels like something different. Shoes, you get "squishiness", but you don't feel the surface of what you're on. Steel Plate, you could feel the diamond shapes. Pebbles felt like pebbles. Bark mulch was absolutely amazing to walk on (felt like being barefoot in the woods).
Alas, it was short lived. After the day of wearing them, I noticed something troubling. The shoes were pressing on my bit toenail rather awkwardly. Kind of a mix of pushing it back into the toe, and upward (like trying to rip it off). It didn't hurt, but it was uncomfortable. And being as I have a history of ingrown toenails, I didn't feel comfortable cutting it any shorter. So, alas, I had to return the shoes =( (I did find at least one other instance of someone having the same issue with their big toe toenail on the amazon website. So, I'm not crazy! =)).
All that said, I really loved them. While I didn't really get to run in them, I can imagine it feels great. All and all, they're an extremely liberating shoe for someone that isn't a big barefoot person (I'm too paranoid about stepping on something, and my feet aren't overly callused). The build quality was extremely good, and from talking with friends that have them, they last a pretty long time (over a year day in/out use in one case)… which is good for ANY shoe, let alone one that is hardly a "shoe" and more like a tough bottomed toe-sock.
Would I be worried about stepping on something in them? Maybe… but given the bottom, while I think something like an up-ended tack might penetrate the sole, I don't think it would make it all the way through, or seriously hurt your foot. Glass I don't think would penetrate either. The sole really is quite tough… yet flexible. I'd compare it to my Gatorskin bike tires. Though a kevlar backed VFF might be cool. =P
All and all, as I said, I loved them. They really are the best thing to happen to footwear since Bill Bowerman (though obviously that's a contrary statement to barefoot running, but, he was revolutionary… as I think these will be/are). And, I'm going to continue trying on/out new models until I find one that works for me. They have a new model, the Bikila coming out in Spring 2010. I'm certainly going to try it out… though given it's style, I'd imagine it'll be similar to the KSO's in toenail tension. =/
So, go try them on already! If they don't change your life, they'll at least change your attitude about the notion of "shoes".
Notes:
KSO stock image taken from REI's website.
Links of interest: