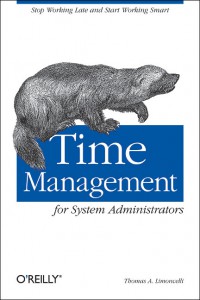 Title: Time management for System Administrators
Author: Thomas Limoncelli
Publisher: O'Reilly Media
Published: Nov 2005
Amazon link: Paperback
Rating: 5 out of 5.
Having owned this book since early 2006, I can say I've read it a few times, which helpfully is what the author suggests in the book (multiple readings). I first found out about the book via a review on Slashdot (here). The book, by and large, has changed the way I work every day. While I can't say I'm the best at following the suggestions, I do try.
The biggest point of the book, and what any SA should walk away with, is the notion that brain power is better used doing your job, and not keeping track of tasks. So, use something "trustable" to manage your tasks. In the authors case, a "PAA" or Personal Analog Assistant (a day planner). Write everything down, so that you don't have to remember it for more than a few seconds. Carry it everywhere. I tried this, since when I first read the book, Palm was the only real PDA available, and they didn't work nearly as well as one would like. So, I bought a Franklin Covey planner, and used it. Never worked very well, being a lefty. Stopped trying within a couple months. I pretty much gave up on a lot of the process until I got an iPhone 3G. Once I had one of those, things really started coming together. Largely due to one set of programs, one a desktop app, and one an iPhone app: OmniFocus. At that point, keeping track of items became as easy as pulling out my iPhone to add an item, or adding something on the desktop. Now, I don't have to keep track of "to-do's" in my brain. OmniFocus does it for me.
After reading the book the first time, we also implemented RT at the office. This has since been merged into a campus-wide RT system, but either way, the ability to have Troubleticketing is another step toward working more efficiently.
Between those two items, there is a missing part (I think) that a Wiki fills. I personally really like Dokuwiki, but any wiki will work. It allows for easily documenting processes, documenting systems, etc.
The only part(s) of "The Process" I haven't been able to enact have been the mutual interruption shield, and planning my day in the first 5-10 minutes I'm at work. Both of these are due to my placement in the office (being right next to the door). This is going to be changing in the coming weeks, when I'll actually be in the back of the office, and people will have to work past several others before getting to me.
All and all, the book has greatly increased my productivity, and allows me to actually have idle time at work. I get more done, and have more time to work on "fun" projects. All and all, I highly recommend it to all SA's, and SA bosses.