After playing Portal 2 co-operative through, a friend and I were chatting and realized a bit of an issue with the physics in Portal, and neither of us were sure if this is something Valve even thought of when producing the games.
The graphic to the left1 shows a situation where in Portal 1 and 22, you could put a portal on the ceiling, and one on the floor, and basically fall "forever". But, for those that have done it, you'll remember that there was a terminal velocity that was reached where you couldn't fall any faster. Terminal velocity being the speed at which the air resistance of the falling object is great enough to counteract the gravity that's pulling the object down. And that rate changes based on the shape of the object (so a person falling with hands at his/her side, legs together, pointed down, will fall faster than someone falling spread out, chest down).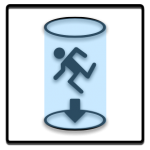 BUT! And here's the thing, air must move through Portals as well, as we saw in a demo for Portal 2 (Pneumatic Diversity Vent), as well as the fact other fluids move through portals (see Repulsion gel, and Propulsion gel). So, we have something like the image to the right. Which means the air column you are in is moving with the object in it! So terminal velocity should be significantly higher than normal (in which case you see something more like the image on the right, with the blue highlight the air column). Now, I realize that there would be some interaction between the air column and the "outside" air, but by and large, the object in the column, and the column itself should be largely bound to each other3.
The problem with all this is, it's not really something that can be experimentally4 tested outside "Aperture Labs". The only thing I can think that would allow for testing would be a similar experiment: can you run faster/easier on a treadmill than a "solid" surface? Basically, take the air resistance out of the equation (since it should be a similar phenomenon to our Portal problem). The answer would logically be a "yes". But, my hope is that a friend who HAS taken computational fluid sciences classes, could run this idea through a simulation to see what would actually happen. I'm still waiting on that though. If you happen to know something about fluid mechanics, please do comment though. I'd love to know if I'm completely off base on this or not. Oh, and if you work for Valve… =)
In the interest of sharing, here is the Omnigraffle stencil (for version 5, though it should work in version 4). If you use it, please post back here with the results.