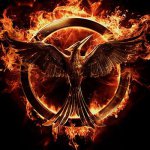 Since I have previously reviewed both of the first two movies, I feel compelled to review the third movie, even though it's part one of two. It will be a short review, however.
The movie takes off from pretty much the same moment Catching Fire left off, and we start to see District 13, and as those that have read the book know, it quickly becomes Katniss throwing a fit that Peeta wasn't gotten out when the dome collapsed. It's extremely sad everytime you see Plutarch Heavensbee (Philip Seymour Hoffman). Hopefully they won't CG him into the second part of Mockingjay.
The movie stays relatively true to the book, and even includes a nicely done monologue of information that should have been in the earlier books: Why President Snow wears and smells of Roses.
All and All, I enjoyed the movie, and don't want to give up too much incase people haven't seen it, or read the book.
[xrr rating =4/5]