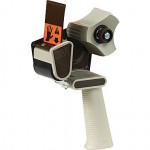 I know it's a little weird to review a tape gun, but when I do use packing tape, I tend to get pretty angry at cheap ones. This wasn't helped by one of the little plastic ones (that are like a shell around a small roll of tape) exploding in my hand the other week. So, I finally decided to buy a tape gun for home. At work, we use the red Scotch Heavy Duty tape dispenser. It's inexpensive, and works okay, but I've found that with the retracting blade, you never get a real easy/clean cut with the tape. Knowing this, I looked on Amazon, and EVERYONE pretty much pointed to the Scotch H180. Costs a bit more, doesn't come with tape, but the blade does not retract, and the build quality seems much more commercial than "home".
The basic test is how much effort does it take to A. Dispense tape on a box, and B. (more importantly), cut the tape with a wrist movement. With the red guns, the first part is fine, the second is hit or miss. You have to put enough pressure on the "guard" to get the blade to come out far enough to cut the tape reliably. Sometimes this works, many times it does not. With the H180, the process is basically so quick, you think the tape broke, but instead, you get a clean cut and the tape where you want it.
My only complaint is, the dispenser should have a loop, or hook, or something at the base of the handle to hang the whole thing by a nail/peg. I might just have to tie something on, because laying it on a shelf just seems silly.
[xrr rating=4.75/5]