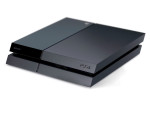 So, this isn't about me repairing a PS4, it's about the timeline involved in getting one repaired.
A friend gave me a PS4 a bit ago, and shortly after, it stopped working. Power button would just cause the blue light for one second, then it would shut back off. No video out, nothing. This sounded like the power supply, but the unit was still it warranty, so I contacted Sony.
Sony said I had to have the receipt/invoice for Warranty to apply (even though the unit was made less than a year ago), but whatever. I asked to get it repaired, and they sent me a box. This was on 9/16/2015.
Next day, I got notice that a box was shipping to me via FedEx ground (it doesn't seem like they do air shipping anymore). Box came from Texas, so it was going to be a while (depending on your proximity to Texas). Sadly, the box didn't actually ship on the 17th… it shipped on the 21st! Took all week to get to me, so it arrived on the 25th, first thing in the morning (glad I'm early on the Fedex route). I packaged it up, and dropped it off afternoon of the 25th, and FedEx got it to Texas on the 30th (8:44am Central)1. Sony registered that they received it around 4pm Central on the 30th. Notice was sent at 10pm Central on October 1st that the unit was serviced and being sent out. At this same moment, their "Service Status Lookup" broke with my service number, and the tracking number they sent me didn't register with FedEx.
I contacted Sony support the next day to ask, and they confirmed it was being sent out with the right tracking number. Later that day, FedEx acknowledged the pickup (FedEx Home Delivery). The unit was delivered to me on Thursday, October 8th. Total time from contacting Sony, to getting a repaired unit, just over 3 weeks, or 22 days. Not terribly awesome, but certainly better than it could have been. I do find it interesting that they repaired the unit rather than replaced it… must have been an easy repair (I'm guessing it was the power supply).
I've decided to purchase the Extended 3 year warranty for $60, as the number of posts online dealing with broken units just seem like too much, and for 15% of a new unit, it seems like a pretty good deal for piece of mind. Also covers accidental damage (dropping, etc). With a toddler in the house, it seems like a safe bet.
Anywho, easy enough process. We'll see how it holds up. =)
so a total of 14 days (two weeks) since calling before anyone has even touched it [↩]