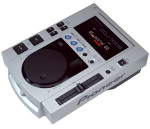 For almost a year, I've had a CDJ-100s that my brother inlaw gave me to repair. He picked it up second hand from his employer as broken, and was hoping I could fix it. Basic troubleshooting showed it wouldn't read disks. You'd put a disk in, it would spin up, but then never show track info, or start playing. I did find the Service Manual online several places (linked here), but beyond basic troubleshooting, it required the "YEDS-7" disk, which is also called the Sony Test Disk 3. Which costs, from everything I can find, at least $150 (and has also been discontinued). So, it sat in my repair pile.
Fast forward to yesterday, when I was looking through said pile, and went "okay, I'm going to fix this, or call it BER (Beyond Economical Repair)1. I did a basic teardown of the unit, which didn't take long once I figured out how to reach my relatively normal size hands under the CD drive to unplug ribbon cables, and looked the unit over. Everything appeared to be intact, but like all good electronics work, I focused first on the power supply. The +5V rail looked good, but the rails labeled VB+ and VB- were both unlabled as to what they SHOULD be. The service manual doesn't specify either. They also seem to be unregulated, but have a huge 10,000uF cap on them. So, they're stable, if not regulated. In my case, unloaded, they read around ±9.5V. Loaded they dropped down around ±8.8V, I believe. So, everything "good" there, I reattached the top of the unit, and put it into diagnostic mode. Without the drive installed, the only tests you're directed to run is the VCO check. Which checked out fine.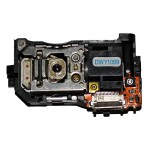 So, before reinstalling the drive, I gave it a good once over. All I was able to find is some long synthetic fiber stuck in the tracking coil assembly (but seemingly not enough to affect it)2. I removed the fiber, and reinstalled the drive unit. After, I went to check the focus bias, which requires inserting the YEDS-7 disk, and it started playing! Well, son of a something.
I tried a normal CD as well, and it played just fine. So either the fiber I found was the culprit, or tearing the unit down fully, then re-assembling was enough to reconnect a loose connection. Either way, the unit now works, and I will return to my brother inlaw. Success!
As a side note, while doing the repair, I ordered a used copy of "Understanding and Servicing CD Players" off Amazon for less than $10 shipped. I'll add it to my shelf in case another CD player crosses the bench.
Which, given how much (don't) they sell for on eBay, means spending really any money on fixing one would be a waste [↩]
I had previously run a CD/DVD cleaning disk through the unit [↩]