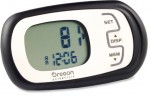 As a late gift to myself for Christmas1, I bought myself a clearance pedometer from REI just before the end of the year. It arrived the friday before new year, and since then I've been using it extensively (6 days now, woo). I can say, it works. It's pretty no-frills, but you can pretty much wear it anywhere (I have it in my jeans coin-pocket), and it seems to keep good track. It auto resets at midnight, but keeps the previous 7 days of logs.
The only weird thing about it is there's really no guide for setting for gait. I found a useful page online that details several methods, which I just used the equations:
Males: Height (in inches) * .415
Females: Height (in inches) * .413
And, being the stats junky I am, I have created a DB table, and a simple form for me to input my daily distances. I hope to keep up on this, but we shall see. You can see that info next to my energy usage, and Prius mileage.
All and all, it's a good product. I probably wouldn't have paid the retail $50 (actually, definitely wouldn't have), but for $18, it's a great deal for a pretty solid pedometer.
[xrr rating=4.75/5]
and to see if I would actually make use of something like a Fitbit [↩]