Not sure if anyone knows, but previous to now, my server hosting this site was a Powerbook G4, 1.67ghz, with 2GB of ram, and an 80GB HD.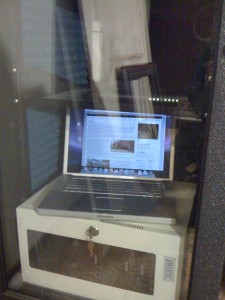 It ran 10.5 Server, and all and all, ran it pretty well. I was using Marc Liyanage's PHP build (http://www.entropy.ch/software/macosx/PHP/), and that worked fairly well. Though, the 5.3.0 install was kinda odd. This computer also served as my weather station machine, file server, power monitor, etc.
Anyway, it worked, but it was rather slow to do any real crunching on (like elaborate SQL queries, etc). Or for that matter, running mod_deflate on my site. And while it's power usage was pretty low, and it had a built-in UPS (it's battery) it wasn't as good as it could be. Also, had to add Cardbus USB card to add additional ports, and making any kind of timelapse movies from my webcam images was out of the question. So, it worked, but it was pretty loaded (load averaged about 20-40%).
So, all that in mind, Tara and I have been selling random crap on eBay the last few weeks, and managed to build up enough between that,
and me cashing out some vacation from work, to buy a brand new Mac Mini Server (also traded in my old personal powerbook for some store credit).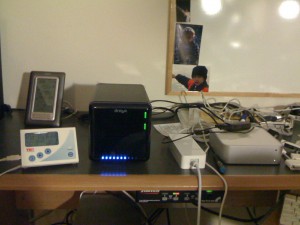 All and all, it's sweet. It's significantly faster, smaller, uses less power, and is more apt to be a server than an old powerbook. =) Sure, the picture to the left makes it look pretty messy (power supply, Keyspan USB-Serial adapter, serial cable from that to weather station), usb cable to webcam, usb cable to TED, firewire to Drobo), but I'm going to clean that up and put it all up on shelves above my desk. And yeah, the pictures in the background are of me as a kid.
Load average on the new system, about 2-4%. Not to mention, the RAM doubling in the new system (with the actual potential to go to 8GB at some point in the future. And being able to run 10.6 server, and I would imagine, 10.7 server as well (whenever it ships). It's a speedy machine. I RAID1'd the two drives, so I'm not nearly as worried about a drive crashing at this point.
And since I never really talked about it, the Drobo is pretty nice as well. It's not as fast as it could be, but that's really not much of an issue. It's mainly for storing media that we watch on the PS3, or laptops. So it's doesn't need to be a rocket, it just needs to work, and be reliable. Right now I've got two WD15EADS drives (1.5TB "Green" drives). They're pretty nice, though I worry about the head parking overly aggressively. As you can see, it's about 70% full, so I'll probably buy another drive in the nearish future which will give me 3TB of storage. Not too bad given my homegrown only had 1TB. I'll do more of a write up on the Drobo in the next week or two. I wanted to wait to write it up until I got the new server, as it acted kinda odd sometimes when it was hooked to the old Powerbook.
Here's to a new week.