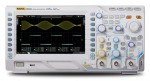 As I mentioned in my previous post with the TTi EL302P I've been extremely interested in electronics of late, and have been looking for a good Oscilloscope. The quest for a 'scope lead me, like many others to eevblog's forum. And at first, it seemed like it was going to be a Hantek or an Owon, but the forums pretty much changed this to be a question of the two Rigol options. The Rigol DS1052e ($330), or the DS2072e ($829). And the question really is do  you spend $330 on a scope and get something that's about five years old, and lacks a lot of features, or do you buy something that's about 2.5x more, and get something that's modern, and has a lot more features than the older model.
The real question though is, if you buy the more expensive one as a first scope, there is really nothing that says a skill set is going to evolve to use the features that make the scope better than the $330 one.
Anyway, after creating a thread on the forums with this exact question here, I got a fair number of responses to my quiz, and better, Dave (the eevblog owner), posted a video blog addressing my question (basically) here. At that point, I pretty much figure I am going to save until I have enough for the 2072 and either buy it, or the cheaper 1052e and have extra, or decide I've changed interests again and not buy anything. Or, I could end up saving some up, and realize I just need a scope, and buy the DS1052e and be happy. Anyway, I'm a bit lost in the decision… but I'm going to keep plugging and figure it out. Either way, a review will be forthcoming once I have it. =)
UPDATE 1 (5/9/2013): I ended up purchasing the older Rigol DS1052e (which I will hack to the 100mhz model) for about $300 from tequipment.net. It should be here in a few days. Now I just need a function generator. Review of the 'scope forthcoming once I have the ability to review it. =)
Update 2: Here's the review.
Update 3: While I still love my DS1052e, even hacked to 100Mhz, I was able to buy a DS2072 and haven't looked back (though I still have the DS1052e sitting in the garage). Review here.