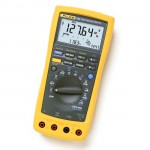 For years I have used a Radioshack 22-812 Multimeter. And while it worked just fine, I decided to treat myself to a "real" multimeter. Interestingly, I was at the beach at the time when I purchased the Radioshack multimeter before, and I was also at the beach when I bought this Fluke 189 over eBay for $200 (yes, they show up cheaper sometimes, but I'm still pretty happy with this price).
Unit arrived in good shape, packed very well, and overall very clean (couple spots were it was engraved by the previous owner, but nothing that some Dremel or labeling couldn't cover), and the calibration sticker was still intact. Dropped some Eneloop rechargeables in it, and it powered right up.
First, some people hate the 189 series multimeters because they take AA batteries, and have terrible battery life relative to the classic 87 series that use 9V batteries and can run for weeks weeks on a single battery. Right now, I'm on my original batteries, with several hours of use, and had no problems at all. Plus, I can always carry extra eneloops. Rechargeable 9V's, by and large, suck.
Anyway, the meter is a 50,000 count, 4.5 digit, True RMS meter with all the features you'd expect from the formerly top end Fluke handheld meter. Accuracy seems to be dead-on with everything else I've tested it against, and usability is top notch. The only complaint, really, is the power on/off being the selector switch. They resolved this with the newer version 2 of the meter where there is an actual power on/off button.
I have not, unfortunately, tested the logging or PC interface, since I don't have the cable, but I hope to do this at some point. For it's use as both an Electrical meter (mains), and Electronics meter (smaller projects), it has been perfect. The display is easy and fast to read, the battery life is just fine, and it really works just great. Fluke really are the de-facto handheld standard for good reason.
[xrr rating=5/5]