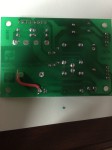 I just received an Apache AL13P laminator I purchased off eBay (for doing toner transfer PCBs), as not working, for $15 with $15 shipping (so, $30 vs a new one for $90 from Amazon). Listing said the motor worked, but the controls didn't. Figured it would be something easy.
Item arrived from FedEx saying they had inspected it (guessing they wondered about the odd weight of the box), but otherwise in very good shape. Looking at the unit, it had obviously been dropped in shipping to the original purchaser, as one of the top case tabs had broken, and upon opening, the transformer had broken loose of the power PCB (breaking a trace at the time, as well as breaking a leg/lead off the primary side of the transformer). So, repairing we will go!
So, I removed the board which is held in with 4 screws, some spacers, and some hot glue to hold the connections in (and may also serve to show tampering). Removing the transformer from the board was easy enough with my soldering iron and sucker, and then came trying to repair the damage. Glueing the leg back on was simple with some two part epoxy (JB Weld in this case). Re-soldering the lead took a bit more finesse, but worked okay after some solder "bridging" in free air. Luckily it's only a 3W transformer, so the load on the windings isn't going to head anything up much.
Once the epoxy had set well enough (still moveable, but firm enough to hold), I soldered it back in place, ran some 20AWG stranded wire from the input pin on the board to the formerly broken transformer leg (to "replace" the broken trace), and reinstalled the board (so nothing got glued out of alignment). Once that was done, and being impatient, I hooked everything back up, and fired it up. Worked perfectly!
Another repair done with nothing but an iron and some wire. As a note, I did contact the OEM for Apache Laminators, a company called Huanda in China, about a replacement power/relay board. They got back to me within an hour, and said while the board is only $8, shipping via FedEx Overnight (unknown why this was the default) and something called a "Bank Charge" put the cost up to $68 for the board, which puts the replacement near to a whole new unit from Amazon. Kudos to the company, though, for being so quick to get back to me. They also said that Apache don't carry any parts, just the whole units. =/