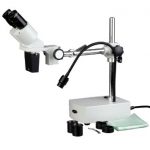 After moving my workbench, I've been buying tools that I couldn't otherwise have used in my old space. One of the last things I needed was a stereo-microscrope for doing SMD work. Some looking around quickly pointed me to the Amscope SE400-Z, which gets great reviews, is affordable ($185 on Amazon as of today). I had a bunch of Amazon credit, and rewards, to I used those and the total was only $115. Two days later, Ontrac delivered the scope in a pretty small, but weighty, box. The unit goes together quite easily (especially if you've seen pictures, or any reviews online). The manual, for whatever reason is password protected from download, but the access code was on the side of the box rather than in the included pamphlet. The manual, however, is pretty useless.
The scope as a whole is quite nice. I'm haven't used for much SMD re-work at this point, but it seems like it should work very well for everything I might do. While a continuously zoomable scope, on a boom or arm would be nice, but I don't really have a good space for one and didn't want to spend the $500+ for one. =/ Same goes for a trinocular (camera) port.
The base of the scope is pretty stout, but could be a bit heavier. It's ferrous, so you can slap a magnetic parts tray to it, and put screws, etc in that. The gooseneck light is great, and allows for moving the light to just the right angle to see SMD markings (which are often laser-etched, and aren't legible in direct light). I do use the microscope without my glasses on, and it looks very clear. The working distance is great, but I will need to figure out a good working surface for some boards since they don't always lay on the bench "flat", or study enough to allow soldering. Which is my only complaint. Although the working distance on the unit is very good, I do wonder about any kind of clamping I'll have to do on double-sided boards. I may need to invest in some low profile clamping (either something cheap like this, or a couple Hakko Omnivise's).
The scope does sit on my bench well enough that I can use it seated from my stool. My bench height is 33 inches, and I'm medium height, so it should work for most people. Rough focusing for your working height is done by moving the horizontal arm height up and down, then fine focusing is done via the knobs. The optics are very good for a scope this price, and really made me realize the finish difference between the cheap eBay/Amazon tweezers, and the good WIHA ones I have. Yeah, I'm probably going to need more tweezers at some point. =/
All and all, I'd highly recommend at this time. It'll be interesting to see how well it survives. It feels very sturdy, but I do have a toddler, so it will have to get that test. =)
[xrr rating=4.5/5]
UPDATE 1 (6/1/2016): I have since soldered a QFP64 package using the Amscope, and holy cow, it's awesome. Previously, doing this by eye (and I have pretty good close up vision), it was a pain. I was basically drag soldering, then cleaning up the bridged pins, and then running a blade between the pins to make sure things were clear. With the scope, and actually being able to see the pins, it was MUCH simplier. What used to take 5-10 minutes of fidgeting, took maybe 2 minutes, at most? I'll certainly never go back to unaided soldering of small SMD components again. =)