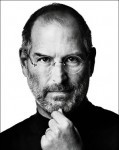 While the web is filled with memorials, testimonials, quotes, etc about Steve's passing, I figured it only appropriate that I say something… since while I am a System Administrator by profession, I am a Mac user by lifestyle. From the computers I've used at home since I was 5, to the servers I work with today, I work with Apple hardware. I've always loved Apple hardware, even when they made rather uninspiring devices during period between Steve Jobs' leaving, then returning to Apple. I wouldn't call myself a cultist, but I would call myself a skeptical believer. Apple has made some missteps in my mind (killing the Xserve, the rather drastic changes in 10.7 server, etc), but I do believe that what they do they do because they truly believe "this is how it should be". It's not just a "this will make us money" or anything like that. Steve, and Apple, both thought they were taking something that was imperfect, and bringing it closer to perfection. And he realized that perfection was out there, somewhere just beyond reach, so you had Apple products that evolved from generation to generation.
What hit me yesterday was that Steve basically bookended his career with the birth, and the (arguably) death of the personal computer. The Apple I/II, and the Macintosh were largely the birth of the real personal computer, and with the release of iOS 5, you have an iPhone, iPad that can be used PC free, which some argue has brought about the end of the PC era. I'm not sure if I agree with that, but it certainly is a step toward the lifestyle where we may have an actual computer at home, or work, but day to day, our lives will largely be played out on phones, tablets, etc. This is already the case for most of us, and will only become more so for others as time passes.
I have no doubt that Steve Jobs made the world a better place. While he certainly didn't help consumerism with releasing new "got to have" evolutionary devices year to year, he did change the game for nearly every industry. Computers were missing 3.5″ floppies before Apple, but they didn't really disappear until the iMac. USB was on many PCs, but was highly underused until the iMac. The pentacle of the "Smart Phone" before the iPhone was a Palm Treo (running WinCE, or PalmOS). The tablet computer was largely some clunky device that ran a slimmed down version of Windows. And that doesn't even mention his work with Fonts, or ColorSync, or any of the multitude of other things that because of Steve's often un-relentless pursuit of perfection were (re)invented for the bettering of the technology world. Hell, he even refocused Nike back in their doldrums days.
I had one interaction with the man via one of his direct emails asking about AirPrint. While not much, it's something I can remember. Apple has given me my job(s), and that Apple is almost entirely due to Steve Jobs. He will be missed, but given the hell that is cancer, I can believe he is at peace. And since he was a Buddhist, I sincerely hope he gets to be reincarnated as something truly great.
Thank you Steve.