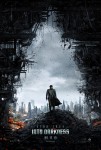 Time was, Star Trek movies appealed only to Trekkies, and worse, for years only the even numbered movies were "good". http://www.imdb.com/title/tt0084726/, The Voyage Home, The Undiscovered Country, First Contact. Nemesis pretty much broke that tradition, as it wasn't very good.
With the J.J. Abrams movies, things have changed quite a bit. The movies no longer require the Trekkie aspect, and so far, both the movies have been good, even if they aren't terribly "Star Trek".
With all that said, "Into Darkness" starts out pretty quickly, and could easily be seen as just continuing on from the first movie. Everybody is still around, and they're all doing pretty much the same things they did in the last movie.
The movie starts out fairly quickly with the Antagonist (Benedict Cumberbatch) indirectly blowing up a building, then Starfleet deciding to go after him, when he then runs off to Kronos (Qo'noS), which given the time period, is serious (the Federation and the Klingons don't really get along). So there's drama there. You do get to see Klingons, which is something there haven't been in a Trek movie for a while (short of Worf).
The movie maintains a good pace throughout, and while a bit predicable (or in one case, predictably groan-able), it kept the audience entertained. I did not notice all the lens flare this time, though a coworker did say it was there. So maybe there were more, but they seemed less "in your face" than in the first movie.
I don't want to give away much more, but Benedict Cumberbatch was definitely a better Antagonist than Eric Bana, but much of that could have been writing, and also, the first movie didn't have a whole lot of room for an Antagonist… it was largely about character development. Nero was just a means to an end. Benedict is definitely an Antagonist, and does the part well for being an otter. Highly enjoyable!
[xrr rating=5/5]