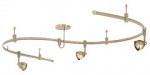 Since buying our house, we've wanted to install track lighting in a few areas of our house, and it's become more of an interest since my wife has been producing paintings, and photography. So when a local hardware store had a 12″ flexible track lighting pack on sale for half off, we picked it up and brought it home. This was a line voltage pack that used GU10 halogen bulbs. It's not made anymore, so buying extra fixtures is something we're having to wait for until the hardware store sells out their stock, and will part with their display unit. Install was kind of a pain on the 12 foot ceilings, and since it's line voltage, the track is a bit stiff (it has what seems to be 14 gauge wire embedded in the flexible track). If we'd had more than one ladder, it would have been easier since one person could hold an end of the track while the other secures an anchor. As it was, I had to do all the anchors, then put up the track, then move two anchors. If you're doing it yourself, USE wall anchors. Unless you hit a stud, the ceiling is not sturdy enough to hold the support in place once it's holding the track. All and all, it went up well, and works well. At first I bought LED lights, but at 3050K, they're a bit too "white". I'm still looking for 2700K LEDs. What's worked well otherwise are the Ikea GU10 florescent lights. They take about 100 seconds to warm up, but they're nice and warm color temp wise. So, 120v track lighting, I'd give:

Rating: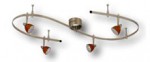 Then, we realize we want track lighting in the hallway. So, we pick up one that's on sale that's
low voltage
. It has a high frequency electronic transformer, and runs MR16 bulbs at 12V. It's been discontinued, but there are lots of parts available, so we purchase two extra fixtures to make a total of 6. Installation was MUCH easier with the lower ceiling of the hallway, and the much thinner track. My main complaints being that the transformer
caused it's own problems
, and that the min-wattage for the transformer to function
1
is 36W, meaning replacing all the lights with LEDs will be a challenge. Right now I've got 6 12v-20W Halogens installed, but later I may replace the transformer with a magnetic one that will operate at a much lower wattage, and allow me to use LEDs.
Likewise, but for different reasons, I'd give the low voltage track lighting:
Rating: 
electronic transformers generally have a minimum load that's required for them to operate correctly [↩]