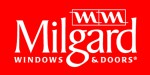 A Couple weeks ago, we had new Milgard windows installed on our house. The windows that were in the house were standard, 1978, double glazed, aluminum windows. They weren't terrible, but they weren't great either. A couple had popped seals (moisture inside), and they would grow mold on the frames from condensation. While we fully realize that window upgrades RARELY pay for themselves in terms of energy savings, we did hate the mold and look of the other windows (plus the fact some had blown seals), we did go ahead and make the purchase1.
While the install took all day, the result after the fact has been great. The windows LOOK much better, and I'm fairly certain my allergies have been better (mold removal is always good). For my own interest sake, I've compiled info on the windows that you can  (if you care to) see here (PDF download). Information is mainly for my sake, and includes model of the window, size, features, and most importantly U-Value (inverse of R-value), SHGC (Solar Heat Gain Coefficient), and VT (Visual Transmittance) info.
Otherwise, this post is pretty much at an end (for now).
plus, our utility company offers a 0% 5 year loan to cover tho costs [↩]