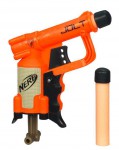 While shopping at the local Toys-R-Us this weekend, I found the Nerf Jolt, an extremely small single shot "blaster" that, judging by online reactions, was an extremely capable gun for all of $5. I picked one up, and after opening, I loved beyond all over Nerf dart guns (I still prefer my Vigilon disc blaster over dart blasters, but it's close). The gun is extremely small, measuring about 4″ square. It fits in my hand relatively well, but if you were a giant, you might have issues holding it well, or the plunger handle hitting your hand on firing1. You load the gun by just sticking a dart in the barrel, and pulling down the plunger, which then hooks on the extremely simple trigger mechanism. The spring tension appears to be about 1.2kg2. The body is one piece of fused plastic, with the bottom being able to be removed to access the spring, plunger, and part of the air restrictor.
Modding the gun, from various sources online, seems rather fruitless. It can be done, but doesn't seem to result in a lot of gain (a few feet). The only mod I might do is remove the dart post to allow use of home-made darts. Firing distance is excellent. For such a simple gun, it seems to fire pretty consistently around 25′ with a level barrel, and upwards of 40-50′ with some elevation. If I had to say a purpose for the gun, I would easily say, indoor nerf battles, or as a hidden weapon for outdoors (main weapon ran out of ammo, needed single shot defense). Indoors it's great as you can fire, hide, reload, popup somewhere else, fire, etc. And because everyone is firing at each other, you all basically "trade" darts. I purchased two more of these Jolts for that specific purpose over the weekend (to give to family), so we could all bob-n-weave around the house firing at each other. Didn't even open the box of extra ammo I'd bought.
All and all, it's a great $5 that will serve very well. Nerf has a serious hit on their hands with this little guy. Even if you aren't in to Nerf weapons, buying one of these may keep you "alive" if you become a bystandard at an office nerf war, or allow for some fun with the pets.
[xrr rating=5/5]
which can still happen if you are wearing baggy long sleeves, or trying to fire two handed [↩]
entirely a guess based on measuring the weigh needed to pull the plunger with a couple water bottles filled with water. Hardly scientific. [↩]