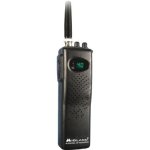 I recently picked up a Midland 75-785 handheld CB at Goodwill for $6, and thought I would see how it worked. I've thought several times about taking the HAM exam, and figured I might want to start out using a CB, repairing a CB, etc. I got the unit home, and fired it up, and it seemed to work okay with a simple 50R rubber duck antenna I got off my scanner. One thing that didn't seem to work, however, was the battery charging circuit. I had some older Ni-Cad batteries to try in the unit, but they would quickly drain, and worse, the charging circuit didn't seem to work (plugging it into my bench power supply, it would draw about 150mA at 13.8V, then quickly ramp down to 10mA, and sit there. Never really charging.
So, being one to never throw something out without first trying to fix it, I took the thing apart! Which consisted of 4 screws on the back piece, then another screw hidden under a battery spring on the remaining battery holder. Taking the board out is a bit challenging, but nothing is holding it in, you just have to work it past the case.
First thing that jumped out at me is how crappy the build quality was (I later found the CB at the local Fry's Electronics for only $37, so that explains the build quality). Several cold joints, or missing solder around some joints (holes). After that, I noticed a crack around one major solder point mid-board. Obviously the unit had been dropped. Easy enough to fix, just scrape some solder mask off the trace, and reconnect.
I also noticed a very burned out resistor (R900), that while it still checked out okay (47R), it was clearly charred. After replacing this, I figured I would contact Midland and see if they'd email me the schematics for the unit (I didn't hold by breath, but radio/stereo companies will often do this since their units are usually repaired rather than disposed of). The next day, I had the schematics! Gotta love companies that don't claim IP and make you do shit on your own.
Anyway, after getting the schematics, I took a better look at the unit, and didn't find anything terribly wrong other than some shoddy soldering, and more evidence of a previous repair (couple air wires, and cold joints). I touched these up, and put the radio back together, and noticed a bit higher noise floor, but also better/more frequent reception of Channel 17 (the North-South trucker channel). Could have just been the day, but it seemed fairly consistent. I am going to do a more thorough look into the battery charging circuit, as it still doesn't seem to be "right" (I would think it should draw more current), but for now, I'm going to call it fixed. I will update if I find anything else wrong. =)