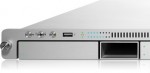 We're still using Xserves, and thankfully two of them are the last revision. Unfortunately, one of those two got stuck booting the other day1, and having dealt with this in the past, I knew LOM (Lights Out Management) can be the cause. So, I unplugged the server, and let it sit overnight. Next morning, it still wouldn't boot.
So, I pulled the machine and tried in another location. It booted.
So the only thing I can figure is that LOM must get enough voltage/current over the network connections to keep it "alive", and moving the machine disconnected that last lifeline.
So, moral: If LOM is being difficult, unplug power and network, and let things sit for a few minutes.
Silly LOM.
Pressed power, network lights would cycle every 5 seconds or so, but never got all the activity lights to cycle, etc [↩]