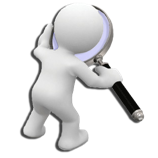 Time was, my media library was populated with lots of files with inconsistent titles, and worse, TV episodes like "Showname_S01E05.mp4". This is great if you know "episode name -> episode number", but that usually required me to get online, and look that info up. Worse, DVD's don't necessarily have episodes in the same order they were aired (like, Firefly's DVDs). The thing is, my media collection is rather large, and I REALLY didn't want to go through and name all the episodes by hand. And it really came to a head when I bought my new AppleTV (Gen 2). So, I did some searching online, and found the answer in a software product called iDentify, by Justin Pulsipher.
One word comes to mind: genius! I could suddenly drop all my TV shows, and movies into the program, and it would look up the title, and cover art online, and rename the file using variables that I set (in my case, "Showname – SxxExx – Episode Title.m4v". And if you/I wanted, it'd then add them to my iTunes library. It does this all extremely well, and the new version adds a few other nice touches. It adds the ability to name episodes in aired or DVD order (see Firefly comment above), and the ability (thought I haven't tested it yet) to name files based on DVD numbering. So, using the default Handbrake naming scheme for TV series encodes, iDentify should be able to chew through those and name them appropriately.
My only complaint, and I thought it was something with iDentify, but in fact it's an Apple issue, is you can't have colon's in the filename. I thought that Apple had removed this restriction, but it appears this is not the case. iDentify replaces colon's with two asterisks. I think I'd prefer just omitting the offending character, but I'd guess there are reasons for not.
The app is extremely easy to use, and with the latest feature improvements (like being able to say which service to use for TV show lookups (I've had very mixed results with tagChimp, but TVDB works very well)) it's a rock solid app. Is it worth the $9.95 that is charged for the file naming feature? Absolutely! Some people have called it crippleware, but that's a joke. The app works great in it's free version, it just doesn't do renaming, which is largely what I wanted. I gladly paid the $9.95, and it is probably worth more than that.
My only real complaint, is the name. Unfortunately, the name is also a commonly used english word (that says what it does). Googling for the app name can be rather difficult because of that. The author is trying to get the app into the Mac App Store, and when that happens, I'd imagine he'll see a significant boost in sales due to exposure.
If you have a media library (of mp4's) that you've ripped from your DVD collection, and haven't already named, or filled in metadata info for, I'd highly recommend the application. Download it, use it, love it.
[xrr rating=5/5]