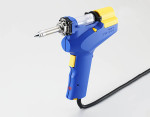 I often find myself repairing electronics that have blown caps, or bad switches, or worse, a bad IC that has 14 to 28 legs. Caps you can cheat and heat one leg, then the other, and work them out (this can be risky, as you risk lifting a pad), and ICs you can cut all the legs and then remove the legs one at a time, but this always felt… desperate. So, when I had the chance to buy a desoldering gun, I jumped on the Hakko FR-300. It replaces the oldy but goody Hakko 808 that people often complained about a short power cord, and other small things. Anyway, Hakko seems to addressed all of these with the FR-300, as it is… awesome.
Since purchasing the unit, I've done several cap replacements, and most significantly, removal of 34 tactile switches from my Racal-Dana 1992. With a solder sucker, or solder-wick, this would have taken an hour, easily, to do. With the Hakko FR-300, it took 10 minutes, tops. If I did charged for work, the 50 minute time savings would add up very quickly to the $240 price tag of the Hakko.
Warm-up on the unit is very quick, and cleaning is also extremely easy (though I did get a broken off pin wedged in the tip one time, and dislodging it required heating the gun up to maximum to melt all the solder that had collected around it, and using the cleaning tool to push it out. Routine cleaning is very easy, as it "loads" a bit like a real gun. You pull back a "chamber" and remove the cartridge and knock it out. Then replace.
The Hakko FR-300 desoldering gun may be my most favorite tool in my arsenal after a soldering iron. My ONLY complaint about the unit is really the price of tips. At a little over $20 each, it does become a tad expensive to have all of them, but with the stock 1.0mm, and the 1.6mm tip, I've been able to tackle just about any through hole component I've had to replace.
[xrr rating=5/5]
Update 1: My Hakko wouldn't heat up one day, and after troubleshooting and finding the element "open circuit", I contacted Hakko. They quickly issued me a shipping label, and I sent the unit in. They repaired under warranty, and sent it back. Total time I didn't have the unit was a little over a week. Interestingly, after getting it back, it heats WAY faster (takes maybe 20 seconds to heat up, vs the 45-60 seconds before). Cool!
Update 2: I used the unit a lot to do the button replacement on my Racal-Dana 1992 last night, and noticed I was getting little puffs of smoke exiting the unit around the chamber and back. I contacted them about this, and they indicated this shouldn't be happening, but rather than having me send the unit back in for repair, they're sending me a whole new FR-300, and then I can send the old one back for them to diagnose. Awesome! Well done Hakko!