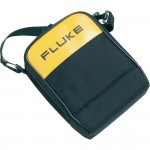 I know I haven't actually finished the review of the Fluke 189, but this review is easier. I purchased a Fluke C115 to hold the meter, and my leads (which themselves were in a Fluke C75 case). After reading several positive reviews on Amazon, I ordered one and waited my 2 days (Amazon Prime, FTW). After receiving, I can say the case is quite nice, though a BIT smaller than I thought. The C75 case fits in one of the internal pouches, and the Fluke 189 fits in another, but it's kind of a tighter fit, and because of the hem on the pocket, taking the 189 OUT of the pocket is a bit slow (the hem can catch on the buttons of the meter).
There is a back zippered pocket that I stashed a printed copy of the manual in, and otherwise, it seems to work quite well. Light weight, pretty sturdy, and I would guess it would protect the meter should it be dropped from being carried (though I doubt it'd survive a distant fall since the 189 has a molded rubber case rather than a removable rubber one). The main flap unzips almost all the way down the sides, so it opens up pretty far, but storage IN the case if you're using both pockets is a bit limited.
All and all, pretty happy. Just wish it was a bit bigger, or that maybe it had a handle rather than just the shoulder strap.
[xrr rating=4.5/5]