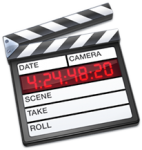 Here at work, we have FCS7 and FCPX on all our lab machines, but we've always had a weird issue where the Mac App Store (MAS) shows updates being available, but they won't install due to some error. After thinking about it for a while, I took at look at the Final Cut Studio 7 apps that have FCP X equivalents (Final Cut Pro.app, Motion.app, and Compressor.app), and interestingly, I found in Contents that each had a _MASReceipt directory. Interesting. It seems at some point the MAS put receipt files in the older versions of the apps, and that confused it thinking that there were updates.
Anyway, removing these directories from each of the apps fixed the issue. Seems like a bug on Apple's part. =/
UPDATE: Upon looking further, it actually seems like the MAS put the receipts in the wrong apps. The _MASReceipt directories were in the old versions, but not in the proper versions. This SEEMS to be because, for our students sake, I renamed the MAS versions of FCPX apps X.app1 but left the older versions by their original names. Once we switch to using FCPX primarily, I'll file the old versions away, but for now, it just appears that Apple does things based on the name of the app, and not any kind of application signing. At least, in 10.6.8. =/ I was, however, able to move the _MASReceipt directories into their respective, correct, apps, and the MAS saw that, and now reports them as installed. Weird.
So, Final Cut Pro X.app, Motion X.app, and Compressor X.app [↩]