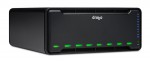 We purchased a Drobo B800i at work during summer break, and initially, I must admit I was a bit confused about it's functionality. I thought, at a block level, iSCSI device, it was basically a SAN with an internal controller. I was wrong. That functionality sounds like it's reserved for the 1200i. The 800i, however, is more aptly referred to as a "virtual storage appliance" (or something like that). You throw drives in it (1-8), of any size, then you basically tell it you want volumes. They can be any size from 1TB to 16TB, and as many as 31 of them. They call it "thin provisioning", and that's an apt description. It's much like a VM, only storage. Sure, you can have 30 volumes, all 16TB in size, but only have a single 500GB hard drive in the B800i. Would you want to? Probably not (what would be the point?).
Since purchasing it, and realizing it's capabilities, I've had it take over the role of "backup". It serves to host previous terms of class data, and our Crashplan PROe data. And by and large, it works very well for that. It's hard to get real performance numbers that would be useful to most, since I knew it wouldn't be used for anything needing high performance, and therefore only put Western Digital 2TB Green drives in it (5900RPM. Not fast). It works, and it seems to work well. My only complaint is the software. They MUST use discovery to find the Drobo, and mount the volumes. You can't, for some reason, specify that there's a Drobo at this address. Because of this, and some as-yet-unknown issue with the OS X Server firewall, it takes a while for the software to find the B800i, and mount the volumes. But I'm going to investigate this more in the future, or ask that Drobo allow manually specifying the location of the Drobo rather than requiring it be "found". Also, the software seems to rely on the GPU rendering the interface, which causes issues when combined with Apple Remote Desktop (the software pegs the CPU). I've reported this to them, and they weren't of much help.
All and all, I'm happy. And at the price per TB (weird that it's gotten to that point), it's hard to beat it for near-line backup storage. My rating, a full point off, is because of the software issues. The hardware seems quite solid.
[xrr rating=4/5]