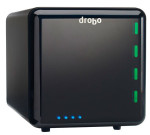 I wanted to post this review 2 weeks ago when I first received my 3rd Generation Drobo, but sadly, the unit was DOA. After talking to Drobo via email1, I got the unit replaced via Adorama since they would send out a brand new unit. The ship back got there a week later, and for reasons unknown, Adorama waiting several days to ship a replacement. They did apologize for the delay, and upgraded the return shipping to overnight. I had the new unit the following day, and first thing I did was power it up with no drives in it to make sure it worked. It did power up, and went through it's initial setup scheme. Being confident it would work, I powered it off, and dropped it in place of my 2nd Generation unit, and swapped the drives over. Power up didn't take that long, but you could tell it was doing some migration of the data as they drives could be heard chunking away for a while afterward.
Initial testing showed the new unit getting about 36MB/sec over USB2 (sadly, my Mac Mini is only USB2), where the previous 2nd Generation Drobo only got about 16MB/sec over Firewire with the same drives.
Bonnie++ was run on the old unit, and new unit, and those results are here. The big take aways from the bonnie++ results are that pretty much every measurement at least tripled. In some cases, like "Delete/sec" it went up by 10-20x! Also, where the 2nd generation showed very little CPU load (meaning the Drobo was the bottleneck), the 3rd generation actually caused SOME CPU load, meaning the bottleneck shifted upstream. In my case, it largely shifted to the USB2 connection vs USB3. This does mean when I go about updating my Mini (to whatever), I will get USB3, and according to numbers online, I can expect these numbers to increase again by almost an order of magnitude in some cases! Additional benefits of the 3rd generation are dimmable lights (I had previously put LightDims over the 2nd generation drive lights, and capacity lights), and the ability to see the model/serial number of the drives installed (this information exists in the 2nd generation as well, but can only be decoded by Drobo support from a Diagnostic file >:-[). There's also a battery backed cache in the 3nd generation, but since I have everything on a UPS, this is of less interest to me. Most importantly, though, is the speed controlled fan. The 2nd generation fan is either on, or off. Meaning it's a tad loud when the fan is running. Many people have replaced their fan with a Noctua or similar to solve this, but I never bothered with this. The 3rd Generation Drobo is pretty darn quiet. As it should be with WD Red Drives.
As of this writing, I'm going to give the Drobo a pretty good score. The only issue being their QA that could have gotten me a working unit in the first place. I will note that the serial number difference between the first unit, and the second was fairly substantial, so it could be there was a change in manufacturing.
[xrr rating=4.5/5]
a less than ideal experience as they made me register the unit first, then refused to answer questions I had asked several times like "do you send a new unit or refurb" and "what is the shipping process" [↩]