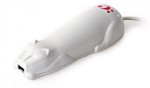 Today I went to a local used technology shop (Next Step Recycling) and in the front case, they had a "Cuecat" for $3. Knowing that they work in Delicious Library, I snatched it up (along with a few other things), and headed home. After plugging it into a computer, and attempting a scan, I got a load of gibberish (not a recognizable barcode). A bit of googling later, I found this. Figuring that someone wouldn't bother posting something like this to the net if it was wrong, I went ahead and took a small screwdriver to the pin indicated, and sheared it off the side of the chip. Total mod time was about 2 minutes, and most of that was finding a small/thin enough flathead blade to shear off the pin.
After putting it back together, I gave it a try, and viola, it gives a real barcode now. You might wonder why I purchased something like this? It's mainly the size and the fact it works in DL2 (and on the iPad with a USB Camera Connection Kit adapter).
So how does it work as a barcode scanner? So-so. It sometimes takes multiple passes to get the code to read, but given it's size, and cost, it's well worth it. Previous to this, I carried around one of these any time I wanted to help someone with an inventory of their media library. It's about 2-3x as big, and has it's own issues.
For more info, albeit more geeky, and may/may not apply to your particular Cuecat (should you find one), see here, here (includes sample output before modification), and here.