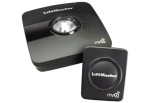 For years I've had a bit of an OCD moment every time I leave the house and think "Did I close the garage door?". So, if I don't actually look back at the house, and say out loud "Garage door is closed", I will often turn around a few blocks later, come back, confirm that I did close it, then go on my way. It's basically the same as "Did I turn the stove off", but I've never had that concern, so it's manifested in garage door concerns.
Figuring there must be a better way, I started looking online, and quickly found Chamberlin has a whole line of Garage Door openers that have wifi and the ability to say if they're open or closed, and control from a phone. They also make add-ons for their other garage doors, and finally I found they make the 821LM that is for all other garage door openers1. Ordering one off Amazon for just north of $100, I figured this would be the end of my OCD. Unit arrived quickly (even without Amazon Prime), and install was mostly easy. Screw the sensor unit to the door, and then program the Wifi base unit. They say to install next to the door opener, but really that's just for range of the signal. Basically you can install the unit anywhere near the opener (probably within 40-50 feet, line of sight, but I haven't really tested this). I installed it in the same area as my router and cable modem (in the garage).
Programming can, theoretically, be done over Bluetooth or Wifi. I tried the Bluetooth option on my iPhone 5S (iOS 8.1.3) several times, but could never get it to connect. So, I switched to Wifi, and it worked the first time. The unit simply broadcasts it's own wifi SSID and you join that, then go to an internal webpage and configure it for your wifi network. Sadly, the unit is only 802.11g (2.4Ghz), but there's so little traffic, I'm not that worried about it (I just try to eliminate all the 2.4Ghz devices as much as I can). Once it's on your network, it reboots a couple times for Firmware updates, then comes up with configuring for your Garage Door opener. My opener is branded as "Overhead Door" but I know it's a Genie model, so telling it that, it then goes through it's 4 Genie code/frequencies, attempting to open and close the door, using the previously screwed on sensor to tell whether it worked. In my case, it took until try 3 before it could control the door. After that, you're done! Total time to install was probably 20 minutes. And since then, I haven't once thought "did I close the door?"
More importantly, I can now go for a walk, or go to mow the yard, and not have to bring an opener with me. I can simply open and close the door from my phone. Really, the only thing the device doesn't have that the Chamberlin/Liftmaster centric add-on has is the ability to auto-close the door after X minutes. Seems like this would be pretty simply to implement. The app does have push notifications you can turn on if you want to know when the door has opened/closed at any time, or only specific times.
I do look forward to integration with Apple's HomeKit when it finally launches. Though, that may just encourage me to finally buy a Wifi enabled Thermostat (which, I've been avoiding since I can't get any good answers out of Honeywell as to which one would work). Anyway, I'm very happy with the purchase, and though I may never "make my money back" on time spent wondering if I've left the door open, it does at least give me the piece of mind that if I'm curious, I can just check my phone. =D My only complaint is getting a second sensor for my other garage door would set me back $50. =/
[xrr rating=5/5]
Note, I'm using Chamberlin and Liftmaster interchangeably since they are the same company. Chamberlin caters to consumers, where Liftmaster is their installer line. The Chamberlin version of this same device is the MyQ Garage MYQ-G0201. They are identical. Oddly, though, they have different Apps on the iOS App Store. [↩]