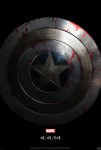 Another year, another Marvel movie. In this case, Captain America: The Winter Soldier, which, as it turns out, is kind of a bad name for the movie (more on that later).
The movie starts out some indeterminate time after the events in The Avengers. S.H.I.E.L.D. (god that's painful to type) is doing it's usual S.H.I.E.L.D. stuff, and Captain America is doing his usual do-gooder stuff, head butting between Nick Fury, and the Captain, ensues. The cast is all back, and once again, Black Widow is the side-kick. I'm actually not sure how I feel about her being the side-kick in all these movies, but she seems to pull it off well enough.
While I never read the comics, I can assume Hydra is the ever-present enemy in them, as well as seemingly going to be the enemy in all of these movies, which is fine. Basically, Hydra survived in the usual clandestine way, and has taken over everything we thought was "good". The Captain must fight back, and quell the new instance.
What is interesting about the title is that, the Captain isn't the Winter Soldier. The Winter Soldier is the "bad guy" in the movie, who has even less character development than Nero from the 2009 Star Trek. He's a good villain, but I find it interesting when they give a movie's subtitle to the name of the baddie. There aren't a lot of examples of this in motion pictures. "Wrath of Khan", "Empire Strikes Back", Bond movies, etc. Not sure what that says about the movie, or the others that use that title formula.
Anyway, the movie was good. The action was pretty well balanced, though at times did seem a bit over-long, but certainly not as long as the climax of Avengers, or Iron Man 2. I'd recommend it, it certainly ranks in the top 5 or 6 of the Marvel movies. It's enjoyable, and certainly is one of the better sequels.
[xrr rating=4.75/5]